Investing with Nick Trimble (Nicholas James Trimble!)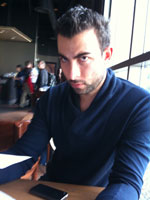 Sharing my Colorado Nick Trimble investment experience is difficult for two reasons. First, it forces me to relive a terrible financial decision and all the related consequences. And second, the magnitude of the losses resulting from my lack of discernment is extremely embarrassing. One might ask, "Why are you sharing this then?" The answer is simple, the pain and embarrassment is worth sharing if it saves just one person from being deceived by Nick Trimble. That said, here is my story:
I first heard about Nick Trimble in July 2009 from a friend. This friend was a colleague of mine who I had worked with for many years. Over the years James had earned my trust and respect while working together at InsureMe in Colorado. Anyway, he shared with me his encounter with Nick Trimble. During that encounter Nick shared with him that he was part owner of a company called Capstone FX Quantitative Analysis ("Capstone"). Capstone FX employed programmers that had over the years developed and refined the Gladiator. It was explained that The Gladiator is a computer system that trades foreign exchange rates with incredible and consistent investment results.
Shortly after, Nick Trimble met with my wife and I to introduce himself, confirm details, and share additional details about the Gladiator. During that meeting Nick told us that he had been a stockbroker at a major brokerage firm and that through Capstone, his team of programmers created and developed The Gladiator system. Trimble said he had several in-house computer programmers that worked out of the Capstone's office in Utah and that one of his programmers had formerly worked for NASA. Here is a list of other statements made that later proved to be untrue:
Capstone was managing around $6M in customer funds at Capstone and that the system consistently earned at least 3% a month by strategically buying and selling currencies.
The Gladiator was able to limit draw-downs to 20% through the use of system generated hedges.
Trimble stated that forex was not as volatile as equities and the trades were not adversely affected by news events the way equities are.
Trimble also stated that everyone should be investing in forex.
In January 2010 my wife and I decided to make a significant investment to own a license to the Gladiator and to have funds traded by the Gladiator. In February 2010, the system suffered a 47% drawdown. At that time Nick Trimble explained that I would need to get use to losses during some months. In April 2010, Nick requested to withdraw his money from the fund to pay a Federal tax bill. We felt sorry for him and allowed him to do this. In May 2010, the account had suffered a 75% loss. To make matters worse, Nick Trimble sent a good portion of my money to Anthony Manterfield at Osiris. Later we discovered that Anthony was a convicted felon and we had tremendous difficulties getting him to return the money that was not allegedly lost by the system. To date, we still have not received all the money. We received a portion back after hiring a private investigator that convinced him into returning some of the funds.
In December 2010, Nick Trimble told me he wanted to compensate me because he felt badly about the losses I suffered. As a result, he signed a note to pay me 1/3rd of my total losses. Nick Trimble made three small payments and then defaulted.
In 2011, it was determined that Nick Trimble didn't own or develop the Gladiator software. It was also determined that he never had a Federal tax bill. The losses really piled up after he removed his money from the system. Nick had also signed a non-compete and while the company was still running it was determined that he was violating the non-compete by starting another forex company with someone else.
In summary, I believe Nick Trimble committed fraud to induce investors to trust and invest with him. Authorities are aware of my allegations and it is my hope that they will do something to help prevent him from harming others in the future. If he has approached you please know that he will come across as very knowledgeable and he will have well thought through answers to your concerns. Feel free to contact me at (303) 408-2702 if you have any question or concerns about this article. There are many other witnesses and details not mentioned here - again, I just want to throw out a warning for other unsuspecting investors. Nick has seen this article - he simply sent me a text stating, "Nice article Mike".
On November 9, 2011 I was notified by the U.S. Commodity Futures Trading Commission that a lawsuit has been entered between the U.S. Commodity Futures Trading Commission and Nicholas Trimble. The civil action number is 11-cv-02887-PAB. This lawsuit was entered in the United States District Court for the district of Colorado. On November 8, 2011, the Honorable Judge Philip A. Brimmer entered a court order freezing all assets in the name of or under the control of Nicholas Trimble, Beekeepers Fund L.P., and Capstone FX Quantitative Analysis, Inc.
January 12, 2012 Update
Brian Deese just e-mailed me this article about Nick Trimble. I'm a bit dismayed to see that Nick Trimble is still out there taking money from people.
Click here for a complete update regarding the civil suit filed by the CFTC against Nick Trimble and the entities he controlled.
August 16, 2012 Update:
The court has scheduled a hearing for the above matter on 8/30/12 at 8:00 a.m. The location of the hearing is:
Alfred A. Arraj United States Courthouse
901 19th Street, Room A 701 (Judge Brimmer)
Denver, Colorado 80294-3589
Finally, here is a link to all the latest court filings, motions, and rulings regarding this case:
March 14, 2013 Update:
The U.S. Commodity Futures Trading Commission (CFTC) obtained federal court orders for more than $3.5 million in restitution and civil monetary penalties against Nicholas Trimble and his companies, Capstone FX Quantitative Analysis, Inc. (Capstone) and Beekeepers Fund Capital Management, LLC (Beekeepers). The complaint charged Nick Trimble with commodity pool and managed account fraud.
Click here to read more about the judgement against Nick Trimble.
December 19, 2013 Update: Nick Trimble allegedly took a deposit to build a steel building in Texas that was never built. The accuser started a criminal investigation and encouraged others who feel they have been cheated by Mr. Trimble to call in their story: Deputy Jennifer Jones - Jefferson County Sheriff's Dept - 303-271-0211 or jljones@co.jefferson.co.us. Jennifer stated that the case has been assigned to an investigator named Jim Taylor.